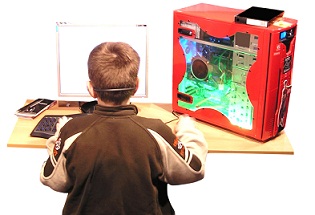 What's a 'den-maker' you ask?  According to Cathy Cross, a den-maker herself and author of this article, a den-maker is one who "morphs dull classrooms into thrilling learning environments." She is on a mission to use both high tech (computers and lighting) with low tech (fabric, boxes, plastic hoops) in order to bridge the gap between technical and creative teaching. Check it out:
"Last year Eric Schmidt, chairman of Google, challenged the British education system. He said he was flabbergasted to learn that computer science isn't taught as standard in UK schools. "Your IT curriculum focuses on teaching how to use software, but gives no insight into how it's made. That is just throwing away your great computer heritage."
Schmidt's point goes deeper than a critique of today's ICT teaching. He was highlighting the divisions between those who teach and learn humanities in Britain and everyone else in the science and engineering "camp."  Schmidt encouraged UK educationalists to reunite art and science, something that Apple's founder Steve Jobs had advocated the benefits of many years earlier. In an interview with the New York Times in 1997, readers were reminded that Jobs had once said the Macintosh turned out so well because the people working on it were musicians, artists, poets and historians who also happened to be excellent computer scientists.
This enforced separation between technical and creative teaching and learning is something I see a lot in schools. I make my living as a den-maker – helping teachers morph dull classrooms into thrilling learning environments. Technology is essential to what I do, as important as the fabric, boxes, plastic hoops and giant envelopes I use."
For Cathy's full article, "Why we need to bring creativity and technology back together across the curriculum,"  go here.