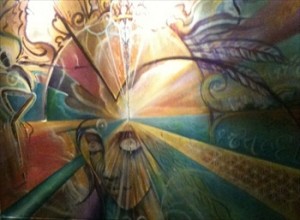 We began this series on consciousness and creativity by pondering their mysterious beginnings some several hundred thousand years ago. Take a moment to put yourself in that unknown creature's shoes. Imagine what it would have been like to go to sleep one evening with only your senses and instincts to guide you and wake up with the awareness of being aware. Imagine what it would have been like for all your sensorial experience—your ability to see, hear, smell, taste, and feel—to be suddenly met with a new capacity that utilized the senses, but was no longer tied to them in quite the same way. It gives me chills just thinking about it.
We can never know for certain what actually happened. Did consciousness emerge all at once like a bolt of lightning, or did it come about erratically, starting and stopping through a series of fortuitous mishaps over thousands of years?  Was it primarily genetic mutations driving the process or stresses in the environment, or some fateful combination of the two? Or was it something else entirely?
According to scientists, the origins of consciousness and our uniquely human ability to create resulted from the gradual organization of inanimate matter over billions of years.  As the organization of matter became more and more complex, conscious self-awareness emerged some one hundred and fifty thousand years ago, the result of a more efficient and complex brain structure unique to humans. This bottom-up view of consciousness is the current reigning idea in the developed world.
Spiritual and religious traditions all over the world, however, share a more top-down approach, an approach in which consciousness is not the end product of increasingly complex organizations of matter, but the most primordial "substance" of all, out of which matter precipitated as a sort of end product. The Taoists, for example, posit that the unknowable Tao which permeates everything leads to the expression of yin and yang, the feminine and masculine energies respectively, which, in turn, lead to the "ten thousand things," the manifest world with all its brilliance and variety.  Recollecting the daily cycling of consciousness from Part III, notice how this traditional model on the origins of consciousness coincides with the daily cycling of consciousness through waking (the ten thousand thing), dreaming (the play of yin and yang as dream archetypes), and the indescribable space of deep sleep (the Tao itself).  In all such traditional models, consciousness in human beings and the capacity to create that goes along with it was simply the re-awakening of the most enduring and primordial aspect of the universe, awareness itself, in a corporal, self-conscious form.
No one has an ultimate claim on the truth. Nor for the sake of creativity is it essential that we try to solve the mystery or take one side over the other. Both models give us valuable viewpoints across the varied terrain of the creative process. The nondual perspective, that which holds both to be true and mutually dependent, is essential. The scientific model allows us to focus on the importance of matter in its influence on consciousness. Just think of how different you feel in a soaring symphony hall versus a pancake strip mall. And the traditional model allows us to see how our thoughts and intentions as creators reshape the material world around us. Just think of how the qualities of our creative undertakings change when we create from a space of greed, jealousy, or spitefulness versus magnanimousness, gratitude, and love.
Though we may never know what led conscious self-awareness to emerge in the mind-body make-up of human beings, it happened, and the key ingredient underlying all of human creativity—including the innumerable innovations in art, culture, science, and religion—was sprung upon the world.
Austin Hill Shaw is a creativity expert, author, writer, architectural designer, and mapmaker of creativity across art, science, and religion. He specializes in helping others tap into and utilize the creative life force in everything they do. He can be reached at austin@austinhillshaw.com.