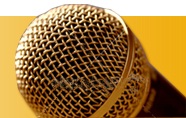 Click here for Interview: Austin Hill Shaw, Creativity Instigator 
In June of this year, I was interviewed by Silicon Valley based professional, speech writer, and National Speakers Association member, Ian Griffin. We talked about the thrust of my speaking as a creativity expert, how I got involved in speaking about creativity, and my participation in Protrack, a year long program geared to teach professional speakers on the in's and out's of the business.
We also talked about my forthcoming book, The Shoreline of Wonder: On Being Creative, which is undergoing its final edits and is due out this October.
Ian also said that I was the spitting image of Ken Wilbur, whom, I'm pleased to say, has had a profound influence on me through his many books on consciousness, including A Brief History of Everything.
Thank you Ian for supporting myself and other members of the Protract class of 2012. I've been moved to have received so much support!
About Ian Griffin:
I am a freelance speech writer who helps high-level executives craft their communications for maximum impact. Are your communications strategic? Effective? Producing the results you want? Consult with a professional with more than twenty years of speech writing experience in the high tech industry. I've worked in the Corporate Communications department at Cisco, Hewlett-Packard and Sun Microsystems. I've consulted on projects for Robert Half Associates, Chevron Energy Solutions, Wolters Kluwer and FICO. Call for information on how to make your presentations more powerful.
I'm an active member of both the National Speakers Association (NSA) and Toastmasters. I was the 2008-09 President of the Northern California Chapter of the NSA and 2010-11 Member of the Year.
The views expressed in this blog are mine and do not reflect the opinions of my past, current or future employers or clients.
I can be reached at ian.griffin@exec-comms.com or by calling