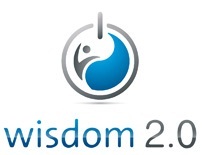 Today I have the honor of being the Speaker Liaison at the first Wisdom 2.0 Buisness conference at the historic Palace Hotel in downtown San Francisco.   The Wisdom 2.0 Tech Conference is well known in the region as a hub for creative cross-pollination between the new world of high tech and the age-old teachings and practices of wisdom traditions.
This time, Wisdom 2.0 founder Soren Gordhamer is bringing the creative dialogue to the business community, again linking innovative  and creative business strategies with the time tested practices of the wisdom traditions.
Today and tomorrow, I will have the honor of working with creativity and innovation heavyweights such as Twitter Co-founder, Biz Stone,  Burning Man festival Founder and Executive Director, Larry Harvey, Zynga & Integrative Health Programs Co-Founder, Eric Schiermeyer, and Tony Schwartz, author of many book including one of my personal favorites What Really Matters, Searching for Wisdom in America, among many, many others.
Many thanks to Conference Coordinator and Speaker, Monique Martineau, for asking me to participate.
Below is a full list of the speakers in alphabetical order.  To reach the conference website click here:  Wisdom 2.0 Business.
2012 Speakers